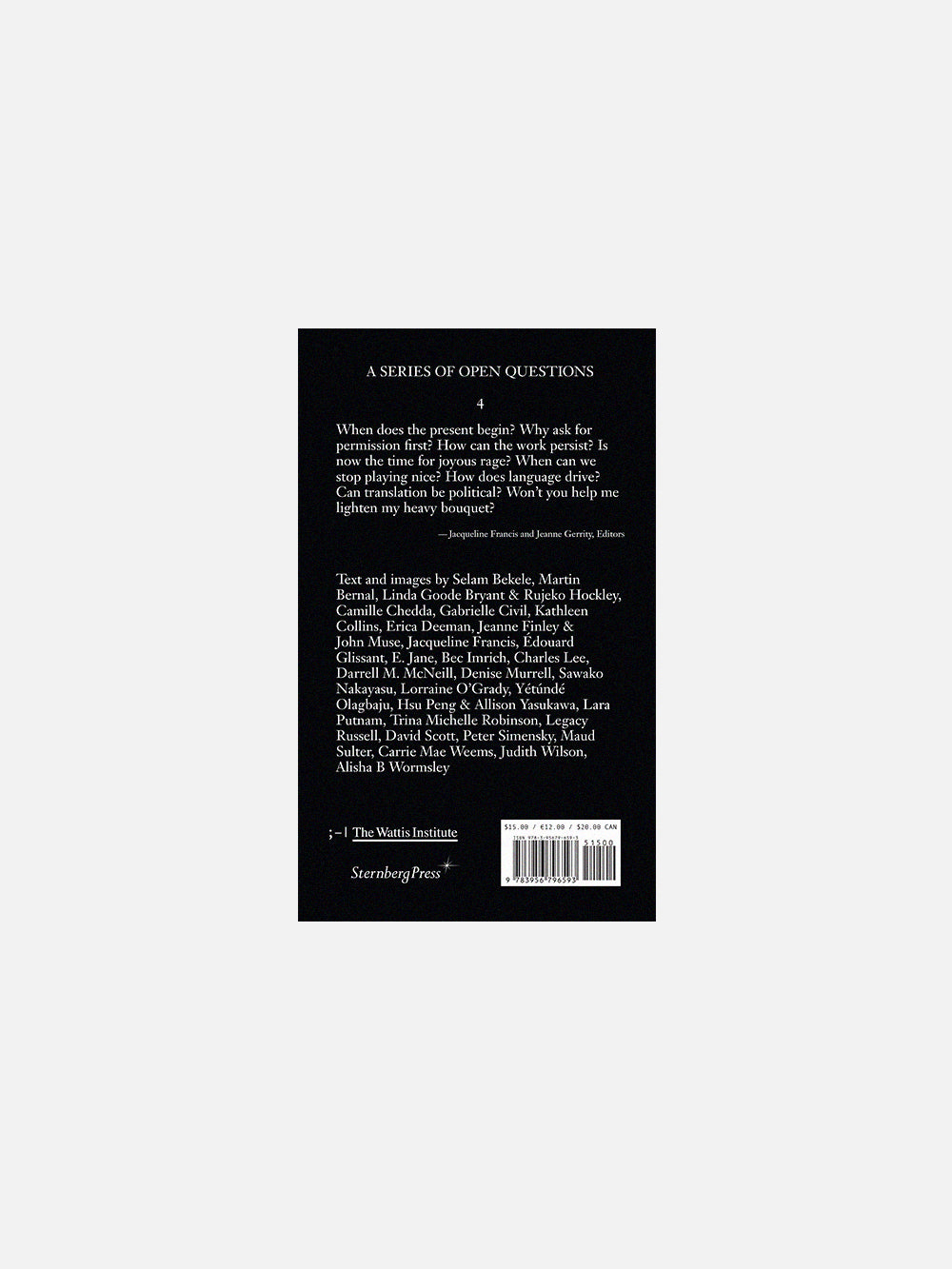 Is now the time for joyous rage

?
is the fourth book in the annual series
A Series of Open Questions
published by CCA Wattis Institute for Contemporary Arts and Sternberg Press

.

Each book in the series includes newly commissioned writing as well a selection of perspectives

,

images

,

and references related to the Wattis

'

s year

-

long research seasons dedicated to single artists

.

Each book takes the work of a single artist as its point of departure and spirals outward from there to create an expansive and carefully edited ecosystem of ideas and voices

.
The fourth issue is informed by themes found in the work of Lorraine O

'

Grady

,

including diaspora

,

Black female subjectivity

,

racial hybridity

,

translation

,

intersectional feminism

,

institutional critique

,

Black representation in the art world

,

archives

,

music

,

Conceptualism

,

and performance art

.
Contributions by Selam Bekele, Martin Bernal, Linda Goode Bryant and Rujeko Hockley, Camille Chedda, Gabrielle Civil, Kathleen Collins, Erica Deeman, Jeanne Finley & John Muse, Jacqueline Francis, Edouard Glissant, E. Jane, Bec Imrich, Charles Lee, Darrell M. McNeill, Denise Murrell, Sawako Nakayasu, Lorraine O'Grady, Yétúndé Olagbaju, Hsu Peng & Allison Yasukawa, Lara Putnam, Trina Michelle Robinson, Legacy Russell, David Scott, Peter Simensky, Carrie Mae Weems, Judith Wilson, Alisha B Wormsley.
Author(s): Various
Year: 2023
Pages: 224
Dimensions: 4.5 x 7 in.
Cover: Softcover
Language: English