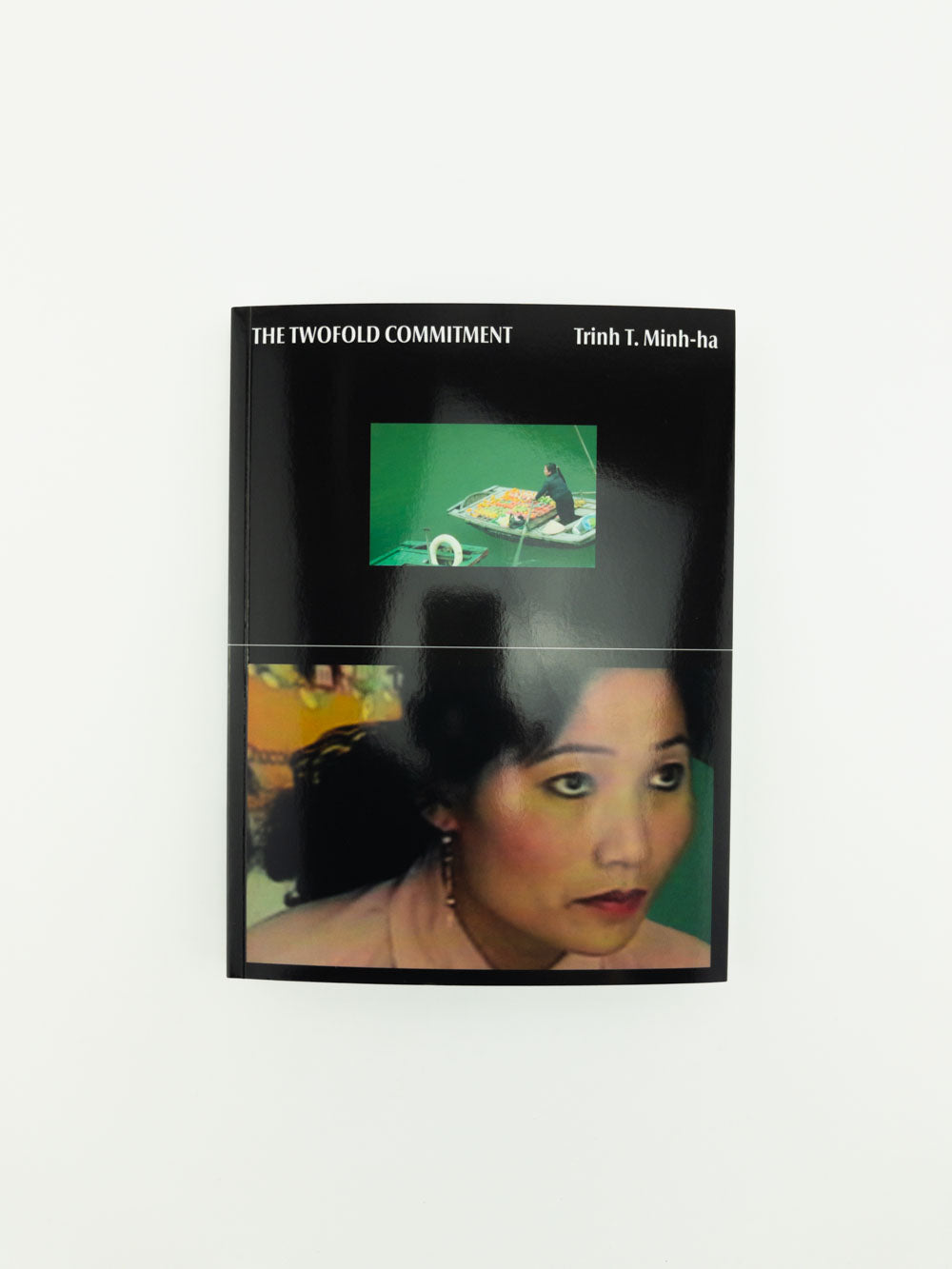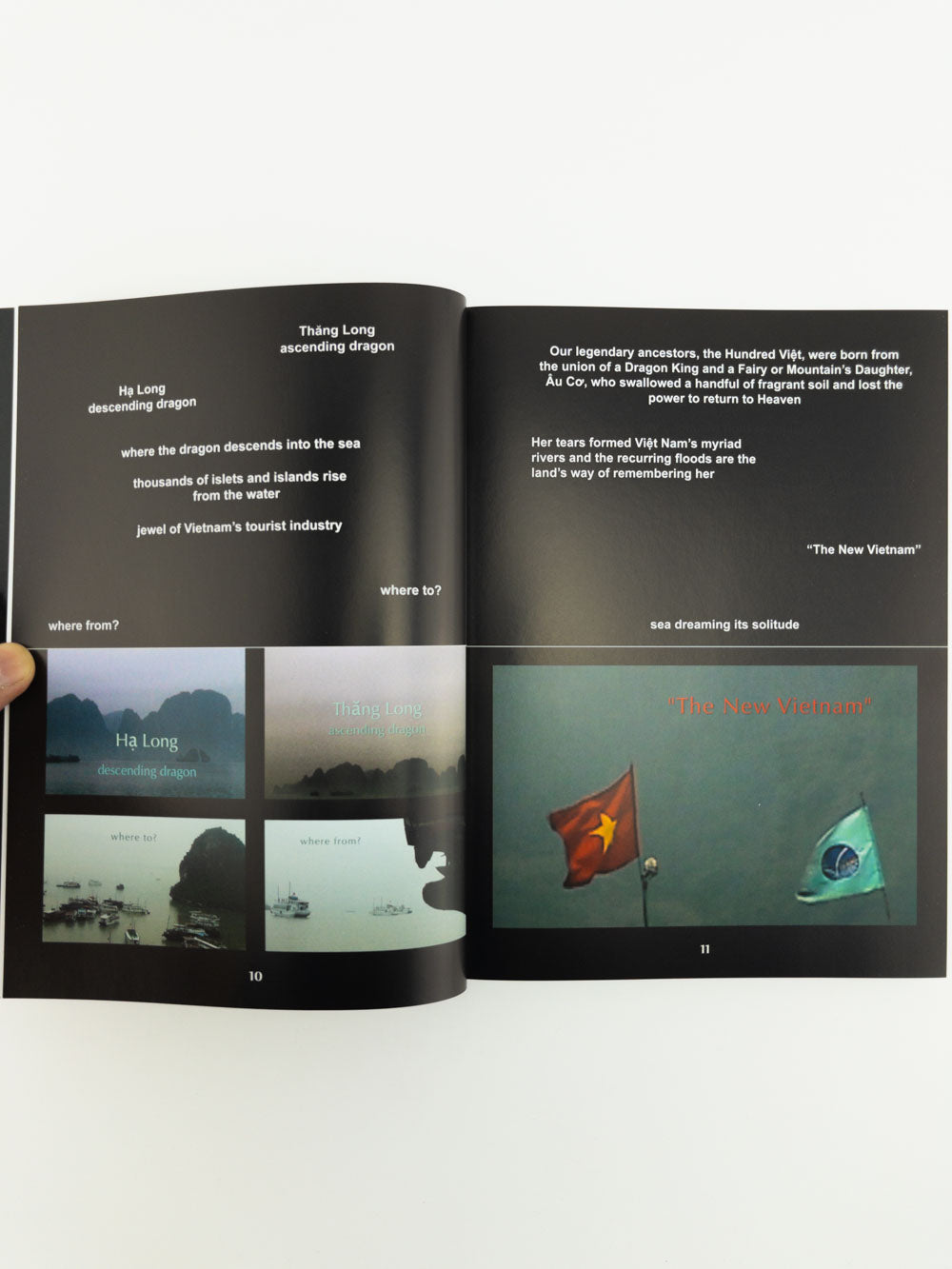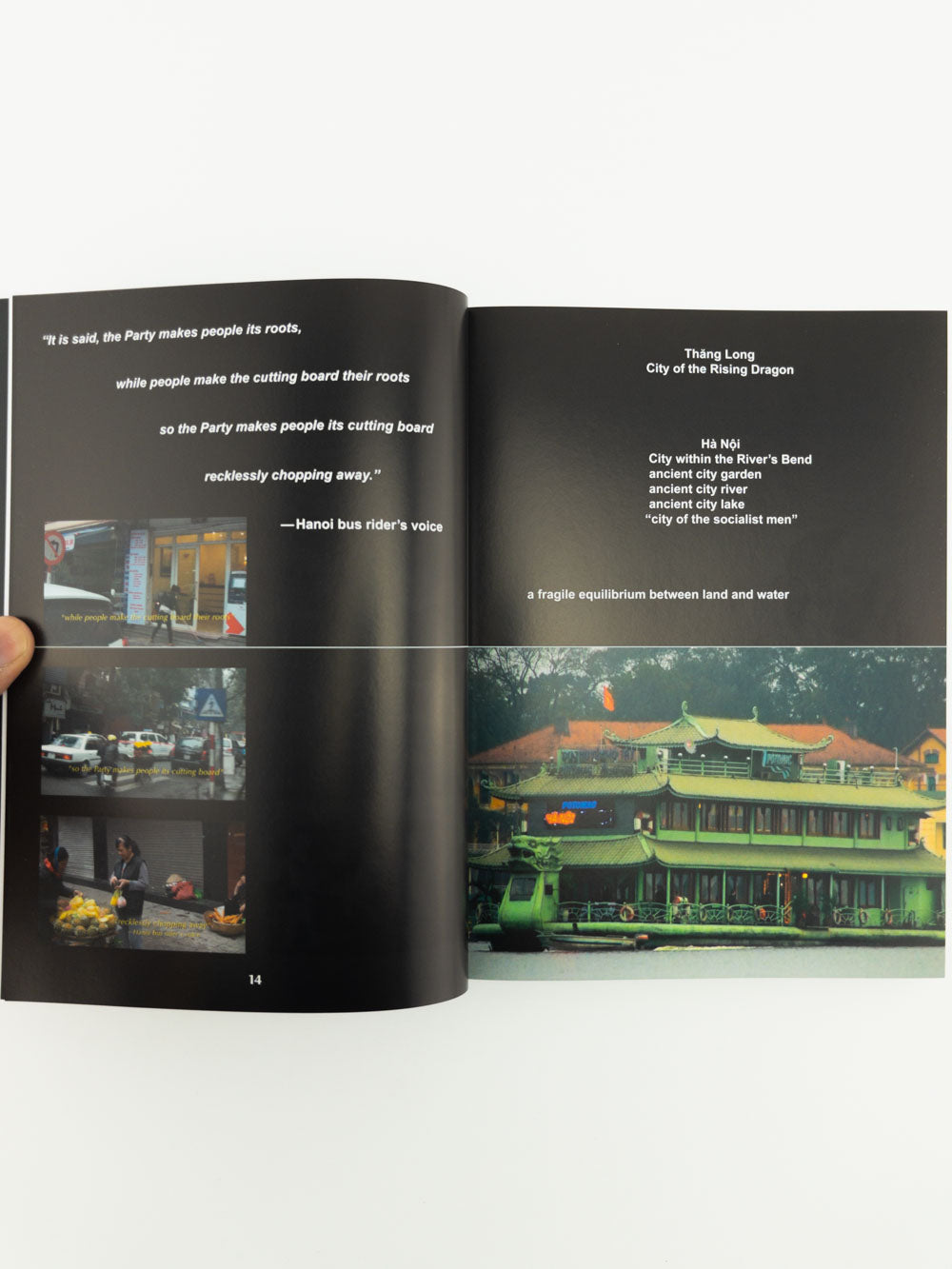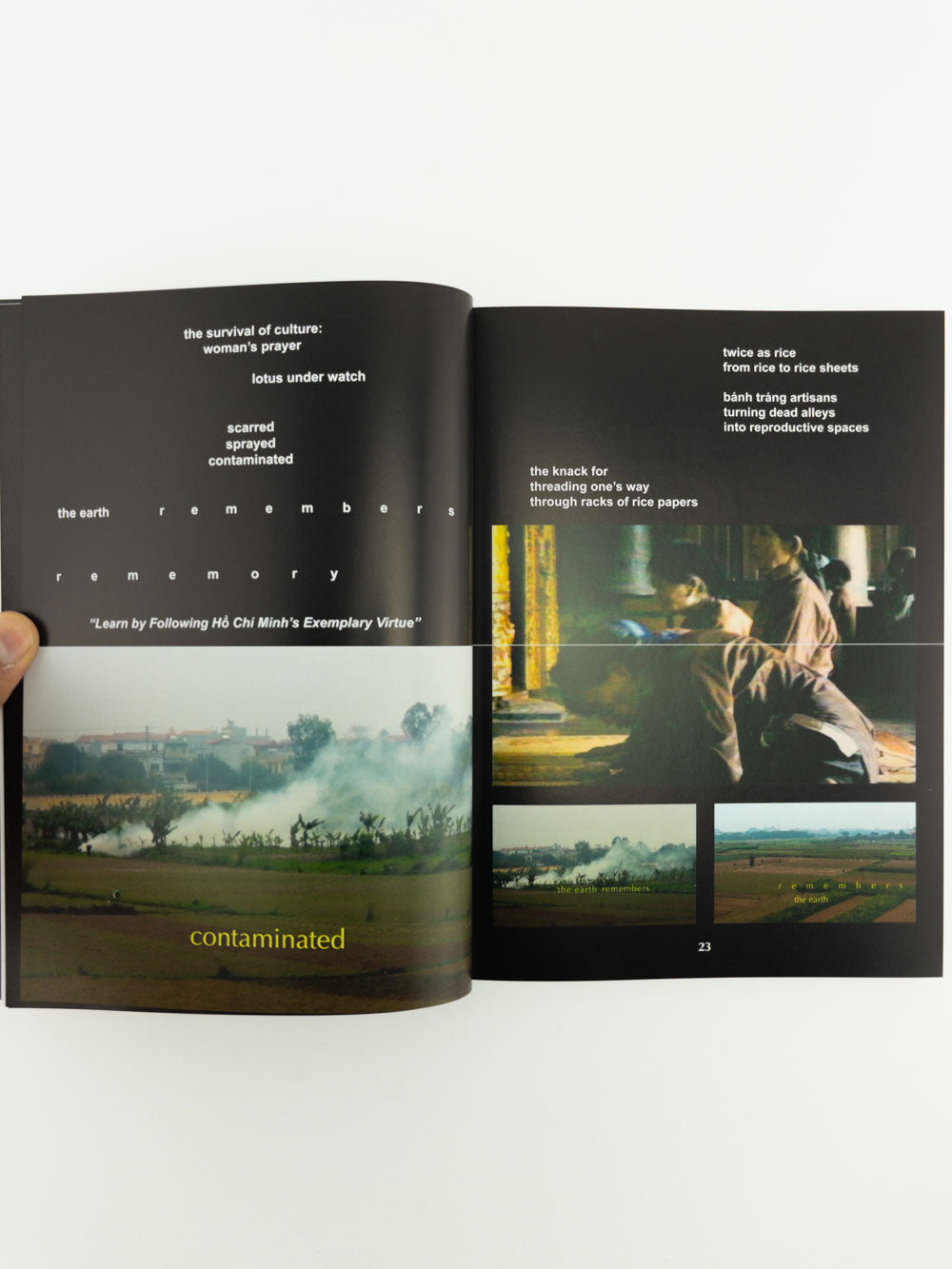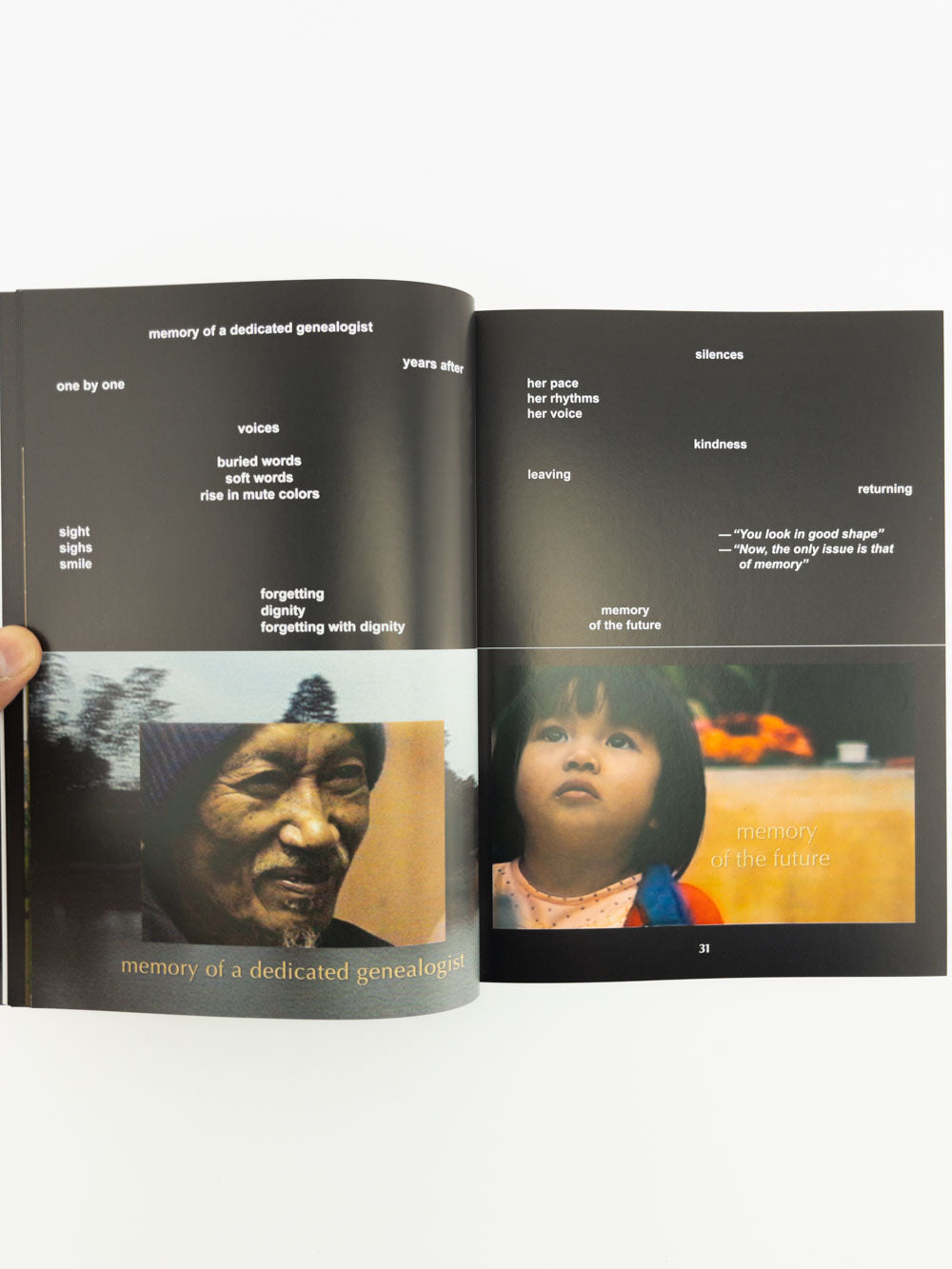 The Twofold Commitment is an artist book by filmmaker, writer, and theorist, Trinh T. Minh-ha. While contextualizing the wider scope of her filmmaking practice, this publication centers on Trinh's feature film Forgetting Vietnam (2015), which takes up one of the myths surrounding the creation of Vietnam: a fight between two dragons whose intertwined bodies fell into the South China Sea and formed Vietnam's curving, S-shaped coastline. Commemorating the fortieth anniversary of the end of the Vietnam War, the film draws inspiration from ancient legend to stage an ongoing, contemporary conversation between land and water, creating a third space for historical and cultural re-memory.
The book features the film's lyrical script, along with rhythmically distributed cinematic stills. Expanding on this central focus is a series of conversations between Trinh and film and sound scholars Patricia Alvarez Astacio and Benjamín Schultz-Figueroa; Erika Balsom; Lucie Kim-Chi Mercier; Domitilla Olivieri; Stefan Östersjö; Irit Rogoff; and Xiaolu Guo. These conversations date from 2016 to 2022 and are accompanied by an index of key concepts in the artist's work.
Born in Vietnam, Trinh T. Minh-ha is a filmmaker, writer, and music composer. She is the author of twelve books, including, most recently, Lovecidal: Walking with the Disappeared (2016) and D-Passage: The Digital Way (2013), as well as the foundational Woman, Native, Other: Writing Postcoloniality and Feminism (1989). Her films and large-scale multimedia installations have been presented at Documenta 11, Kassel; La Triennale at the Palais de Tokyo, Paris; and the Whitney Biennial, New York; as well as the Yerba Buena Center for the Arts, San Francisco; the Kyoto Biennale; the Musée du Quai Branly, Paris; the Okinawa Prefectural Museum; the Guangzhou Triennial; and Manifesta 13, Marseille. Her films have been exhibited as part of numerous international film festivals and honored in over sixty-five retrospectives worldwide. She is the recipient of numerous awards and grants, and is a Distinguished Professor of the Graduate School in the departments of Gender & Women's Studies and Rhetoric at the University of California, Berkeley.
204 pages
6.6 x 8.9 inches
Paperback
Edition of 2200
May 2023
IBSN: 9781737797968